Google Wave
Unleased on May 2009 is the Google Wave. Google wave was a real-time messaging, email and collaboration platform. It was difficult to understand so I didn't bother with it. But, it was predicted by others to replace email or even Facebook. Surprisingly, it didn't become successful and was instead shut down after a year.
Google Buzz
Launched only in February 2010, is Google Buzz. Google Buzz is a social messaging platform where you can share status updates, photos, videos, and links with friends through Gmail. This service is also about to be terminated and by Google+. Honestly, I never even used Google Buzz. Do you use Google Buzz?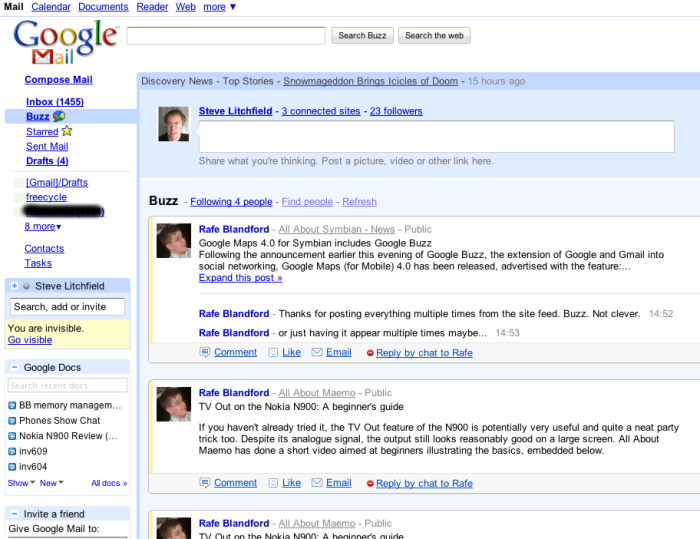 credits to http://allaboutsymbian.com
Google Friend Connect
Google Friend Connect is allows you to turn your website into a social networking site by adding Google Friend Connect widgets on your site. Although Google Friend Connect has a lot to offer. For example, you can message your readers and followers. I feel that I am not able to tap into it entirely. Actually, I only use Google Friend Connect to follow blogs and read their regular RSS updates. Three days ago, Google just announced that

Friend Connect will be retired for all non-

Blogger

sites by March 1, 2012. They are now encouraging users to use Google + Badges and Pages instead.
There was initially a big fuss over Google Plus. I even made a review about it (see separate entry) But, I don't know if you've noticed but it didn't become such a big hit as it was expected too. My Google Plus is always so silent and boring. Sure! Most of my friend have Google Plus but none of them are actually using it.
I was expecting people to use Google Hangout because its an excellent FREE service but people are still using Skype and other alternatives they are accustomed to. Should we expect Google Plus to be replaced again like all the other Google Services above?